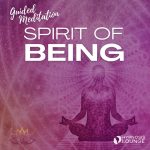 Go deeper on this transformational journey where meditation, spirituality, science and linguistics align for your personal benefit.
Nourishing your mind, body and soul. Giving you the energy to release blocks, empowering you forward and helping you leap into a new more exciting chapter of your life.
Releasing, Letting Go of the things holding you back. Ridding yourself of fears, worries, anxieties and doubts. Banishing negative self-talk and all the things that are blocking your path to Wealth, Health, Happiness and Abundance.
with Gratitude, the emotion that puts things in motion. Appreciating the good in your life. Celebrating the successes you do have. And building more to be Grateful for. Maximising the Now, becoming the 'Advancing Person', giving everyone you meet the 'Impression of Increase'.
Creating Your Future Fantastic, a future you are drawn towards. Living more Abundantly, Passionately, Happily, a life more aligned with who you really are. This is You designing the future you want.
Listen to the PowerNap as the perfect 'pick you up' during your day…
There are two versions of this guided Spirit of Being Meditation, the second is in a live setting, in wooded glade by the babbling brook in Cornwall at one of our retreats… Deep Meditation for Change.
and for onward hypnotic journeying suggestions… this Gratitude Hypnosis focuses on the emotion that puts things in motion.