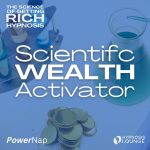 Bring the power of an Abundant Mentality into your life and focus your attention on success. Unleash the attitude of an advancing person
The Scientific Wealth Activator is based on Part 4: The 1st Principle of the Science of Getting Rich and part 4 in the SOGR Hypnosis program.
This is the most important step in the Science of Getting Rich… and in any area of personal development… it is the 1st Step… getting a Clear Mental Image.
Listen to either this hypnosis session or the Binaural Beats version for a deeper trance experience. Focus on one chapter at a time, listen to it 3-5 times in the first week before moving on to the next chapter.
Use this Theta Binaural Beat version with headphones.
Suggestions for your onward hypnotic journeying…
Deepen and strengthen your experience with a Clear Mental Image. Make it Big, Bold and Bright… & Supercharge it with Passion.
Awaken Your Abundant Mind… VIP Members can listen to the full Science of Getting Rich Hypnosis Program to understand and start living Wallace Wattles full wealth manifesting practice.