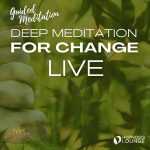 Be transported to the tranquility of the Cornish Countryside with this 'Live' Meditation. A peaceful journey 'from where you are to where you want to be'
Imagine a Cleansing Journey of Renewal with the Music of Nature and a Hypnotic Guided Meditation for Positive Change
Go deeper on this transformational journey where meditation, spirituality, science and linguistics align for your personal benefit. The Spirit of Being Meditation is a peaceful journey.
Discarding your negative emotions and feelings. Accepting where you are and being grateful for the good in your life. Moving forward and setting a powerful intention of where you want to be. Harnessing those powerful feeling of gratitude and focusing them into manifesting the life of your dreams.
WARNING!! This is different. Recorded Live at our Personal Transformation Live Event in Cornwall
"I didn't like it at first! But as I relaxed and followed the meditation I found myself relaxing into a deep meditation and afterwards I felt calm, like I had released the stresses that had built up in me. Instead I was excited and re-energised to working on my business…"
"I love John's hypnosis products, talking books and his voice, but when I first started listening to this I thought 'oh I don't like this… But, I carried on listening to it until I went deep. Deeper than any mediation I've ever listened to, but more than that the way I felt afterwards was amazing. Cleansed, destressed, happy, grateful and feeling more abundant."
"Words cannot explain how great I this is meditation is. More please :-)"
There are two versions of this guided Spirit of Being Meditation, the second is a studio recording with relaxing meditation music and is a more immersive experience… The Spirit of Being Meditation.
and for onward hypnotic journeying suggestions… this Gratitude Hypnosis focuses on the emotion that puts things in motion.